Brake Services
Disc Pad Replacement

Brake Shoe Replacement

Wheel Cylinder Replacement

Brake Disc Rotor Replacement

On-Car Brake Disc Rotor Machining

Brake Drum Machining

Master Cylinder Overhaul

Brake Caliper Overhaul

Brake Booster Repair

Flexible Brake Hose Repair

Brake Line Repair

Brake Fluid Flushing

Brake Service, Clean and Adjustment

Trailer Brakes

Caravan Brakes

American Boat Trailer Brakes

Free Brake Inspection and Diagnosis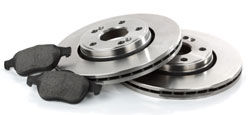 During a disc brake service all components are lubricated, inspected and checked for serviceability. An Anti squeal compound is always applied when the disc pads are replaced, the calipers are lubricated where necessary. All factory shimming, springs and alignment mechanisms are inspected including the brake caliper seals, caliper function, brake hoses, disc rotors, wheel bearings and brake fluid condition.
When the brake fluid condition is poor we recommend replacing the fluid and flushing at all brakes which is usually done at a 2 year or 40,000 km interval. This prevents component damage caused from moisture absorption from within the system.
When replacing the rear brake shoes the assembly is cleaned and lubricated where necessary. The wheel cylinders are renewed and bleed at this time also as they often leak soon after if not replaced. The brake drums are machined when required and finally the brakes and handbrake are re-adjusted.
We specialize in precision on-car disc rotor machining that eliminates common brake pedal pulsation and restores brakes back to new. This is not only carried out on the front disc rotors but can also accommodate for the rear rotors too.
When the brake disc rotors don't meet minimum thickness specifications for machining they are replaced with new rotors.
The brake master cylinder and disc brake calipers seldom need repair but with age and the lack of brake fluid servicing it will at some point require overhauling or replacement.
A regular brake service should be carried out every 10,000 km to assess the braking performance, view brake linings, flexible brake hoses, fluid condition, check for external leaks and clean and adjust brakes and handbrake all to prevent brake failure.
Newcastle Mobile Brake Specialists provide a range of specialist brake repair for all makes and models of motor cars so give Adam a call to discuss your concern on Phone 0402 12 4321.